Mr. Mi, Xiong
The Biography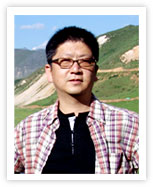 Mi Xiong, a self-claimed religious artist, is involved with many visual art works such as Buddhist paintings, spatial arrangement of a religious place, flat surface designs, supervision of religious activity art work, etc. Recently, he has begun traveling to many places to start his Flowing Trip. He is determined to use brushes to record every reflection and touching feeling from the trip.

Mi Xiong was born in shanghai in 1964 and Started to learn painting in 1971. From 1981, he visited various Buddhist art treasuries and started painting the world of Buddhism After graduated from university, he worked as a designer of shanghai art design company. In the meantime, he did not relinquish his creation of Buddhist art. He has become the full Buddhist art in the land of the southern Taiwan since 1992

Current Position:
Director General, Art of Taiwan Summit Extension of Originally
Director General, Art of Shanghai Summit Culture Development Company
Owner, Mi Xiong Religious Arts Workshop
Past Position
Academician, Shanghai Research Institution of Calligraphy and Painting
Managing Director, China Eastern International Research Committee of Calligraphy and Painting
Art Consultant, Shanghai Buddhism Society
Designer, Shanghai Art Design Company
Important Exhibitions:
October 1994, Moved to Kaohsiung Taiwan
May 1991, Sense –Free Art Center in Kaohsiung Taiwan "Perception on Buddhism" –Mi Xiong's Buddhism Art Exhibition
May 1992, Received "New Talent Award" from Hokutokai, Tokyo, Japan.
October 1996, Pristine Harmony Art Center in Taipei, Taiwan "The Same Nature-From Shanghai to Taiwan" Mi Xiong's Buddhist Painting Exhibition"
November 1996, Molly Gallery in Kaohsiung, Taiwan,"Mi Xiong's Heart Buddhish Art Exhibition"
October 1999, Chinese Culture Center (El Monte) of the T.E.C.O. in Los Angeles " Los Angeles- Kaohsiung-Mi Xiong's Buddhish Painting Exhibition"
October 1999, Culture Exhibition Room Tow of Kaohsiung Chiang Kai-shek Culture Center, Taiwan "Los Angeles- Kaohsiung-Mi Xiong's Buddhish Painting Exhibition"
September 2000, Nan Tien Temple of Fo Guang Shan in Sedney , Australia
"The Mellennium Buddhism Light-Mi Xiong Buddhism Art Exhibition "
October 2000, IBAA Parramatta of Fo Guang Shan in Sedney, Australia
"The Mellennium Buddhism Light-Mi Xiong Buddhish Art Exhibition"
January 2000, "Buddhism Light of the Century-Mi Xiong's Buddhism Art Exhibition" in Lanyang Branch of Fo Guang Shan.Yi-Lan, Taiwan
January 2002, Meidiyas Linkou Art Living Hall-Ch'an, Mind and Space Series I
February 2002, Fo Guang Shan Cultural Exhibition Hall-Ch'an, Mind and
Space Series II
March 2002, Lanyang Art Museum of Fo Guang Shan in Yilan, Taiwan
E-mail Address:
Summit.mi@msa.hinet.net

Mi Xiong's Painting