The United Nations (UN)
global association of governments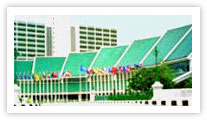 It is an international organization that describes itself as a "global association of governments facilitating cooperation in international law, international security, economic development, and social equity." It was founded in 1945 by 51 states, replacing The League of Nations. As of 2005 it consists of 191 member states, including virtually all internationally recognized independent nations. Palestine and the Holy See both have Permanent Observer Missions to the UN.

From its headquarters in New York City, the UN's member countries and specialized agencies give guidance and decide on substantive and administrative issues in regular meetings held throughout each year. The organization is divided into administrative bodies, including the UN General Assembly, UN Security Council, UN Economic and Social Council, UN Trusteeship Council, UN Secretariat, and the International Court of Justice, as well as counterpart bodies dealing with the governance of all other UN system agencies, such as the WHO and UNICEF. The UN's most visible public figure is the Secretary-General.

Activities to be held at the United Nations Conference Centre
From May 27-29, the conference will take place at the UN Conference Centre, Bangkok. Main activities will be as follows:
- Chanting and meditation
- Welcome Address by Most Venerable Professor Dr. Phra Dhammakosajarn, Rector of Mahachulalongkornrajavidyalaya University and Chairman International Organizing Committee of UN Day of Vesak
- Messages from Guests of Honour; Special Guests such as Executive Secretary, Secretary-General, Director-General, UNESCO
- Speech by H.E. the Prime Minister of Thailand
- Speeches and messages from Buddhist leaders; Heads of State
- Keynote Speech by the Most Ven.Bramavamso and Venerable Thich Nhat Hanh (French-Vietnamese)
- Panel Discussion on Perspectives on Buddhist Strategy for World Peace and Sustainable Development
- Guest Lectures
- Workshops on six topics: World Peace, Buddhist Education, Dissemination of Buddhism, Protection of Buddhist Culture, Sustainable Development and Buddhist Collaboration
- Reports from the Workshops, followed by Open Discussion
- Issue of Joint Communique
- Closing Ceremony presided over by His Holiness, Somdet Phra Buddhacharya, President of the Executive Committee on behalf of the Supreme Patriarch of Thailand.

Transport to and from the United Nations Conference Centre
All VIP guests, Buddhist leaders and participants who stay at the hotels will be going to the venue by the transport arranged by the host.

Other participants and observers may go there by car (UN car park is limited), or take a taxi, the cost depends on where you start from. Coaches will also leave from Wat Mahadhath and Sanam Luang.