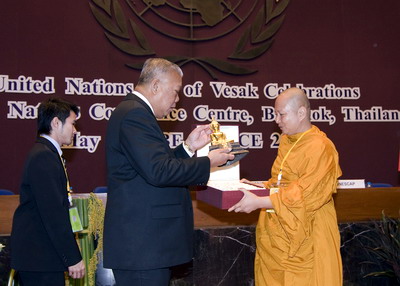 At 10 A.M today (May 18, 2551/2008) the Prime Minister Mr. Samak Sundaravej and the Minister of Defence Affairs opened the meeting of international Buddhist leaders on Visakhapuja Day, the internationally important day of the United Nations at the United Nations ESCAP Hall (UNESCAP) in Bangkok.

On this occasion, the Prime Minister Mr. Samak Sundaravej gave a speech both in English and Thai and a part of it states, "Visakhapuja is believed to be one of the most internationally important days and so it has been promoted to be an internationally important day of the United Nations. It is the day when there occurred three important events: the birth of the Buddha, his enlightenment and his passing away. Thus at this moment I want Thai people to recall the teaching of the Buddha especially the four noble truths – that is the truth of suffering, the truth of the cause of suffering, the truth of the end of suffering and the truth of the way to the end of suffering and personally use the noble doctrine in daily life as well as in politics by analyzing the cause of any kind of problem and trying to solve it in a reasonable way and then encourage the world populace to know about the Buddha and embrace his teaching especially, the teaching with which the Buddha got enlightenment and the love of observing the five precepts."

Mr. Choosak Sirinil, Minister to the Prime Minister's Office, also delivered a speech on this Visakhapuja day. He says that it is the most important day of the nation that has been declared as the world's internationally important day and the government has thus arranged a week of promoting Buddhism on Visakhapuja day between 15-19 May, 2551/2008 in Putthamonthon and invited the people to participate in this. There is an arrangement of exhibition of the biography of the Buddha, that of the king and the show related to Thai Buddhist culture. Whatever, we must accept that in the present society, children and young people keeps away from Buddhism to a great extent. The government tries to bring children and young people to stay close to Buddhism by cooperating with the department and agencies concerned such as giving training to the monks to become better preachers on radio and television with regard to the Buddha's teachings in solving the social problems.