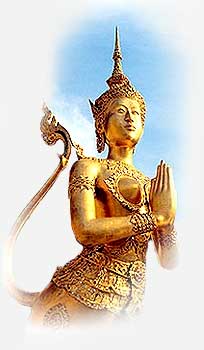 Buddhamonthon
Buddhist park in the Buddhamonthon district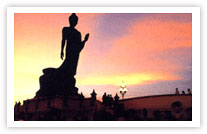 It is a Buddhist park in the Buddhamonthon district, Nakhon Pathom Province of Thailand, west of Bangkok. It is highlighted by a 15.87 m (52 foot) high Buddha statue, which is considered to be the highest free-standing Buddha statue of the world.

The park was created in 1957 (which was the year 2500 in the Thai Buddhist Era) on the basis of an idea of Thailand's prime minister, Phibunsongkhram. The park covers an area of about 40 hectares, which in traditional Thai units is 2500 rai. Construction started on July 29 1955, and the park was inaugurated on the Vaisakh Bucha day (May 13) in 1957.

After a long pause construction on the park resumed in 1976; notably, the main Buddha statue was built after that time. Already designed in 1955 by art professor Silpa Bhirasri, the statue was cast in 1981. Given the name Phra Si Sakaya Dasabalayan Prathan Buddhamonthon Sudassana by King Bhumibol Adulyadej, it is located at the centre of the park. Around the statue are sites memorialising the four main stations in the life of Buddha: his birth symolized by seven lotus flowers, his Enlightment under the Bodhi tree, his first sermon and his death. Another important building is the marble viharn, which contains the entire buddhist canon engraved in 1418 marble stelas.

Activities to be held at Buddhamonthon
- Opening Ceremony on the Day of Vesak by His Holiness, Somdet Phra Buddhacharya, President of the Executive Committee, on behalf of the Supreme Patriarch of Thailand
- Inauguration Address by His Royal Highness Crown Prince Maha Vajiralongkorn
- Welcome Speech by Most Venerable Professor Dr. Phra Dhammakosarjarn, Rector of Mahachulalongkornrajavidyalaya University and Chairman International Organizing Committee of UN Day of Vesak
- Speech by H.E. the Prime Minister of Thailand
- Speeches and Messages from leaders of Mahasangha and Buddhist Organization
- Group Photograph
- Ethnic Cultural Shows from different Buddhist traditions

Transportation from and to Buddhamonthon
All VIP guests, Buddhist leaders and participants who stay at the hotels will be going to the venue by the transportation arranged by the host.

Those who would like to go there privately can drive a car or take a taxi; the cost should be between 150 baht and 300 or 400 baht depending on where you start from.